RoadFile is a hub for road-related statistics collated by the Asphalt Industry Alliance (AIA).
RoadFile provides the latest available data from a range of UK and EU sources presented in an easy-to use-format. The data is updated biennially and was last revised in December 2022 and therefore includes information publicly available at this time.
The guidance notes below will help you get the most out of the data available.
Moving the mouse over the legend on a
chart will highlight the data for that series.
Clicking on the series will filter the data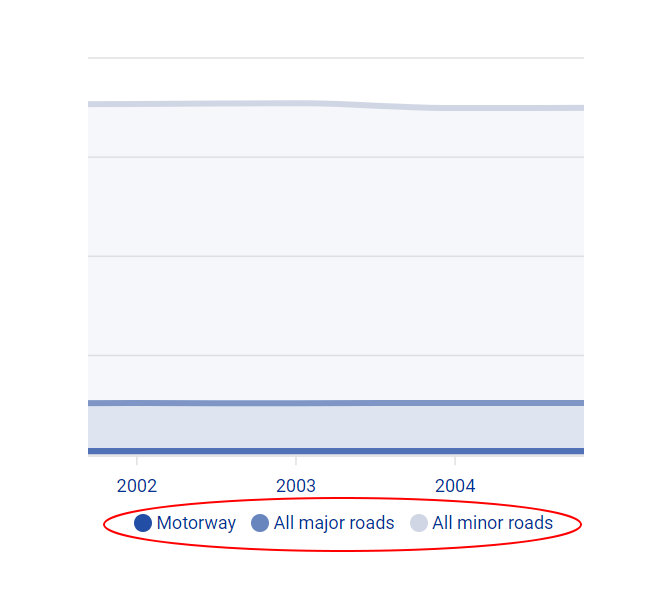 Guidance notes:
Transport is a devolved issue in the UK with the devolved Governments for Wales, Scotland and Northern Ireland having responsibility for many transport-related policy and operational issues. See https://commonslibrary.parliament.uk/research-briefings/sn03156/.
The term Britain used across RoadFile refers to Great Britain (GB), including Scotland and Wales, but excluding Northern Ireland. All figures relate to GB unless otherwise stated.

All Department for Transport (DfT) figures relate to GB unless otherwise stated.

The Asphalt Industry's Annual Local Road Maintenance (ALARM) survey covers England, Wales and London.

Eurostat data includes the former EU 28 with its data for the UK covering Great Britain (England, Scotland and Wales) and Northern Ireland.

Freight data refers to domestic road freight transport by goods vehicles over 3.5 tonnes gross weight.
Disclaimer: While we have used our reasonable efforts to ensure the accuracy of the data used in this website, RoadFile, its associated organisations and/or their employees do not assume any legal liability or responsibility for the accuracy, or completeness of any information provided. The burden of fitness of the data lies completely with the user.

Further sources of information: